Description
Leia is a glTF exporter for Autodesk® Revit®. Export any 3D model to use in the cloud or in any other tools like Unity or Unreal.
______
General Usage Instructions
1. Open a 3D view
2. Select the format, visualization, units, data, and compression
3. Hit export and you're done!
______
Screenshots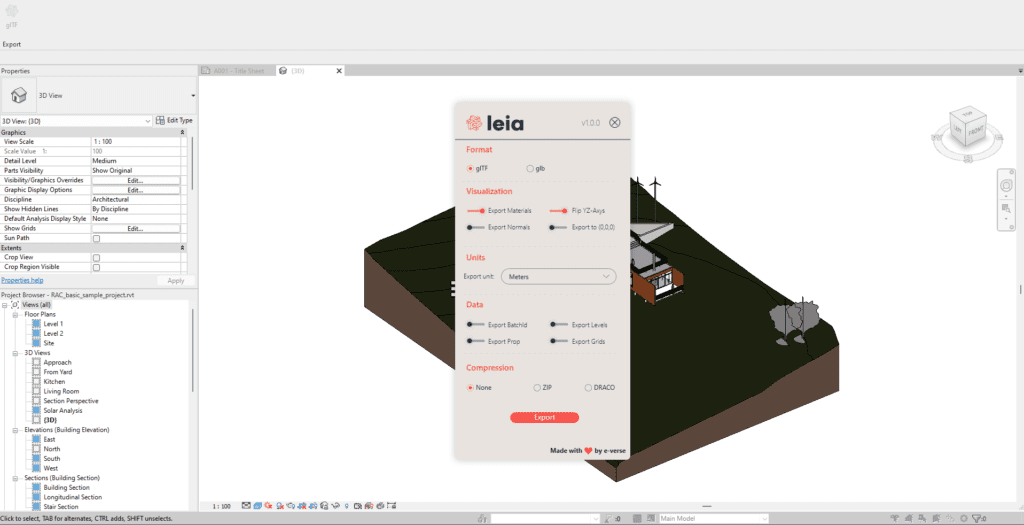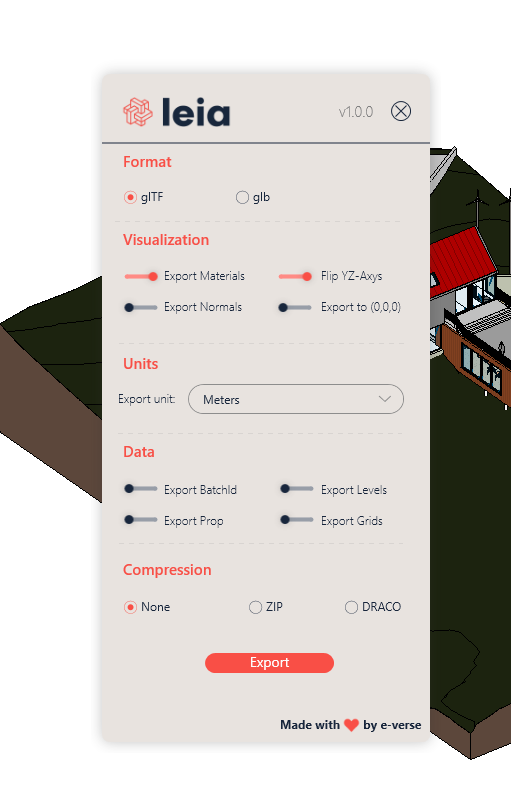 Sections
Format: You can select glTF to obtain the export in a .gltf and .bin formats or glb to obtain the export as a single binary file.
Visualization: Here you can select options that will affect how your exported model is going to look like the materials, normals, flipping the YZ-axis (as many viewer like Three.js required this) or relocating the model to the 0,0,0.
Units: Select the equivalence of what 1 unit will mean in glTF.
Data: Here, you can select which data will be exported along with the 3D meshes.
Compression: In this section you can choose what type of compression you can choose to improve the weight of you model.
______
Installation/ Uninstallation


Installation:
1- Execute the Addin Installer.
2- Complete the instalation accepting the conditions and terms.
3- Open Autodesk® Revit®. Leia is currently available for Revit 2019,2020, 2021, 2022, and 2023.
4- Press "Always Load" to the addition of the addin in Revit.
5- Look for "e-verse" tab and start working!.

Uninstallation:
1- Go to Settings – Apps & Features.
2- Look for Leia app.
3- Execute and press "Remove"
4- Complete the uninstallation.
______
About this version
Leia is currently available for Autodesk Revit
Version: 2023, 2022, 2021, 2020, 2019

Version 1.1.0, 4/4/2023
______
Videos